RCB vs LSG IPL 2023 Match Prediction | Match 15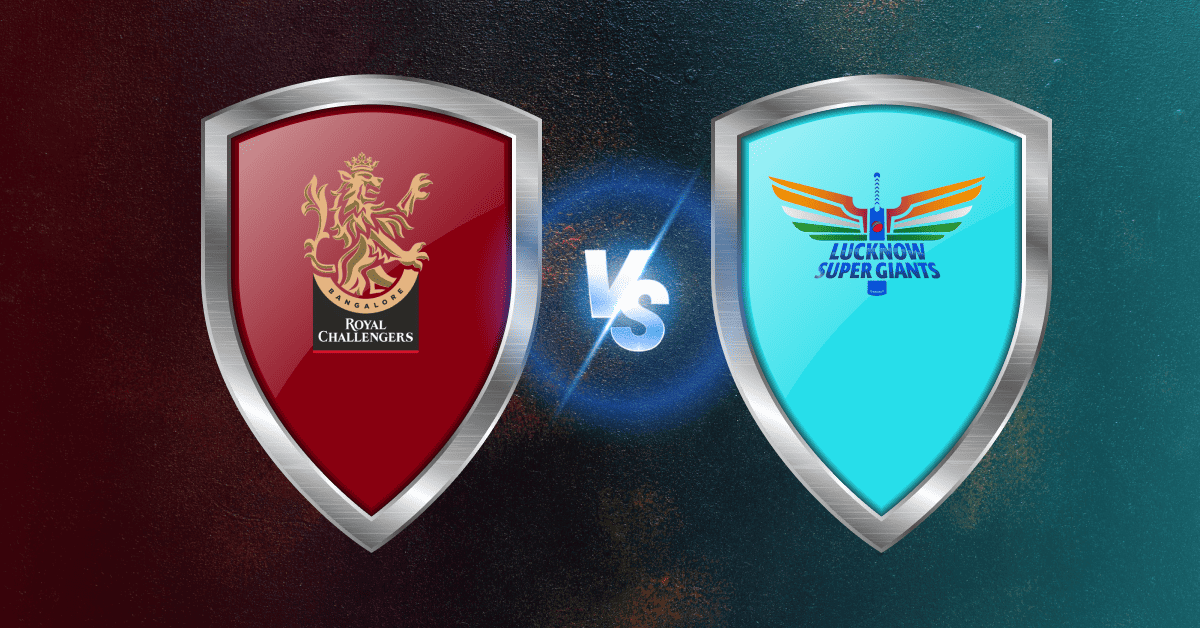 RCB vs LSG – IPL 2023 season is set to witness an exhilarating encounter between two formidable teams: Royal Challengers Bangalore (RCB) and the Lucknow Super Giants (LSG). This thrilling match-up promises to be a nail-biter as both sides boast exceptional talent, and their extraordinary performances on the field are to look for. As the anticipation for the clash builds, let us delve into an in-depth preview, prediction, and head-to-head statistics of this much-awaited contest between the Royal Challengers Bangalore and the Lucknow Super Giants.
Royal Challenger Bangalore Team Overview
Over the years, RCB has consistently showcased an impressive roster of seasoned and emerging players. Their batting line-up, headlined by some of the biggest names in international cricket, has the firepower to wreak havoc on any bowling attack. Moreover, RCB's bowling unit has also evolved, with a team of talented bowlers to complement their experienced campaigners. With a balanced squad and a never-say-die attitude, the Royal Challengers Bangalore will undoubtedly pose a significant threat to the Lucknow Super Giants in their IPL 2023 face-off.
Lucknow Super Giants Team Overview
On the other hand, the Lucknow Super Giants have emerged as a formidable contender in the IPL circuit. LSG's well-rounded squad, characterized by a blend of experienced international stars and promising domestic talents, has been instrumental in the team's rise to prominence. Their top-order boasts a wealth of T20 experience, while their middle-order has consistently proven its ability to deliver in high-pressure situations. The team's bowling attack is equally impressive, featuring a mix of pace and spin bowlers with the prowess to trouble even the most accomplished batters. The Lucknow Super Giants' overall balance and depth make them a formidable opponent for the Royal Challengers Bangalore in their IPL 2023 showdown.
RCB vs LSG: Head-to-Head Stats
In two IPL games, RCB and LSG have faced each other two times, and Bangalore has triumphed in these two games.
RCB vs LSG IPL 2022 Stats
Look at last year's IPL stats of RCB and LSG.
Top Run-scorer: Faf du Plessis – 468 runs (RCB); KL Rahul – 616 runs (LSG)
Most Wickets: Wanindu Hasaranga – 26 wickets (RCB); Avesh Khan – 18 wickets (LSG)
Most Sixes: Dinesh Karthik – 22 sixes (RCB); KL Rahul – 30 sixes (LSG)
RCB vs LSG: Who Will Win?
Analyzing the head-to-head statistics between these two teams, it is evident that Royal Challengers Bangalore and the Lucknow Super Giants are strong. These two teams have delivered match-winning performances, with their respective strengths and weaknesses often determining the outcome of their encounters. While RCB has often relied on their batting prowess to secure victories, LSG's all-around capabilities have seen them snatch wins from the jaws of defeat. As a result, predicting the outcome of the RCB vs. LSG is tough, but RCB might win this match! Keep your eye on to know who will win this match!