GT vs RR IPL 2023 Match Preview & Prediction | Match 23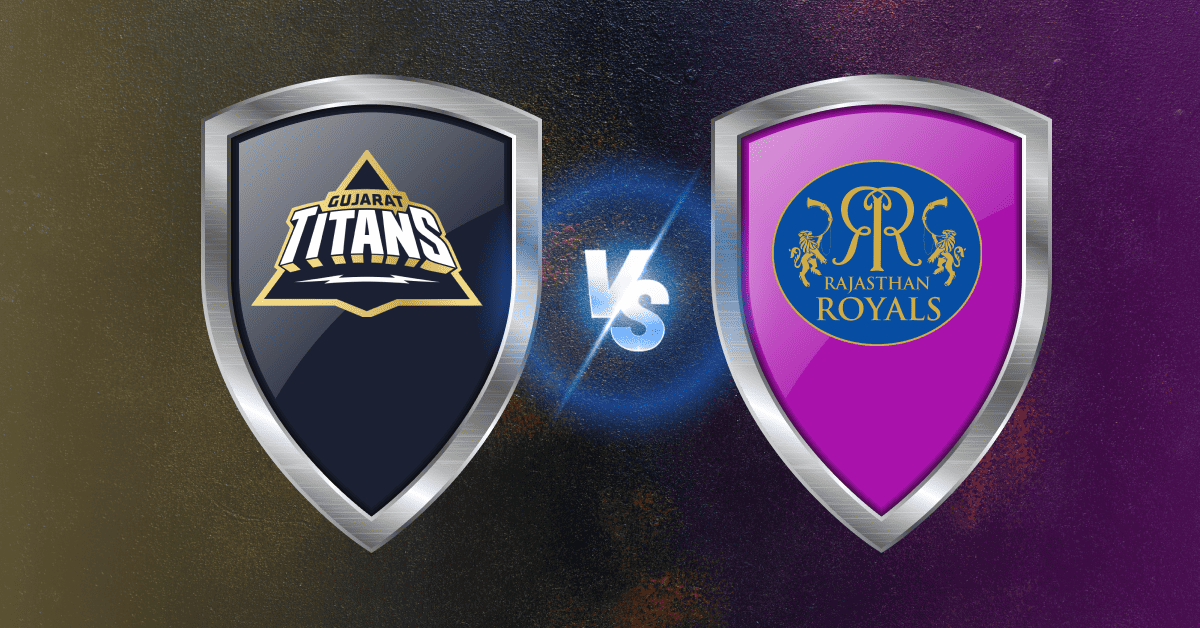 GT vs RR – The highly anticipated showdown between the Gujarat Titans and the Rajasthan Royals in the IPL 2023 is enthralling, packed with excitement, adrenaline, and nail-biting moments. With both teams boasting a robust lineup and exceptional talent, this match promises to be thrilling. In this comprehensive match preview, we analyze the team overview and head-to-head stats of the Gujarat Titans and Rajasthan Royals while also attempting to predict the outcome of this much-awaited clash.
Gujarat Titans
The Gujarat Titans, a formidable new force in the IPL, have consistently demonstrated their prowess on the field with a string of impressive performances. Their balanced team composition, comprising experienced players and young talent, has been crucial to their success. The Titans' batting lineup, spearheaded by the explosive opening partnership and the in-form top-order batsman, has the potential to wreak havoc on the opposition's bowling attack. Furthermore, their versatile bowling unit, led by their seasoned fast bowler and the wily leg-spinner, has consistently delivered under pressure, stifling the run flow and picking up crucial wickets.
Looking at the first match of IPL 2023, the team performed exceptionally well, especially Shubman Gill, who scored 63 runs in 36 balls with six 4s and three 6s. Also, Rajvardhan Hangargekar from the bowling unit was the player to look for. 
Rajasthan Royals
Team RR, renowned for their never-say-die attitude, has emerged as a force to be reckoned with in the IPL. The Royals' dynamic and aggressive brand of cricket has been instrumental in their rise to prominence. Their top-order batting, featuring the best batters and the dependable middle-order batsman, has often laid the foundation for competitive totals. The bowling attack, which boasts a potent mix of pace and spin, can dismantle the opposition's batting lineup. The presence of world-class all-rounders like Jason Holder and Ravichandran Ashwin balances the team, making them a formidable opponent.
In the first match of IPL 2023, Team RR scored 203 runs and won by 72 runs against Sunrisers Hyderabad. Sanju Samson, Jos Buttler, and Yashasvi Jaiswal were the players to look for. The team is expected to do well in all the upcoming matches. 
GT vs RR Head-to-Head Stats
In three IPL matches, Gujarat and Rajasthan faced each other, and GT won all. 
GT vs RR IPL 2022 Stats
Let's look at last year's IPL stats of GT vs. RR. 
Top Run-scorer: Hardik Pandya – 487 runs (GT); JC Buttler – 863 runs (RR)

Most Wickets: Mohammed Shami – 20 wickets (GT); YS Chahal – 27 wickets (RR)

Most Sixes: David Miller –  23 sixes (GT); JC Buttler –  45 sixes (RR)
GT vs RR – Who Will Win?
When it comes to the head-to-head stats between the Gujarat Titans and the Rajasthan Royals, the numbers reveal a closely fought contest. Historically, both teams have had moments of glory, with Titans having one IPL Title and Royals one. However, the recent form and momentum of the two teams will play a pivotal role in determining the outcome of this high-stakes clash. As per our prediction, GT has a 50% chance of winning this match. Stay tuned to see who wins this match!